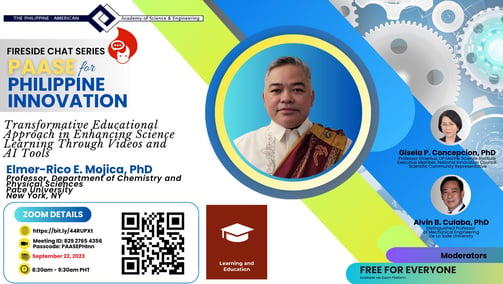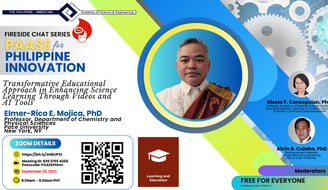 PAASE FIRESIDE CHAT SERIES:
Transformative Educational Approach in Enhancing Science Learning Through Videos and AI Tools
22 September 2023, 8:30-9:30 AM (PHT)


Meeting ID: 829 2765 4356
Passcode: PAASEPHInn

Speaker:
Elmer-Rico E. Mojica, PhD
Professor,

Department of Chemistry and Physical Sciences
Pace University
New York, NY
PAASE for Philippine Innovation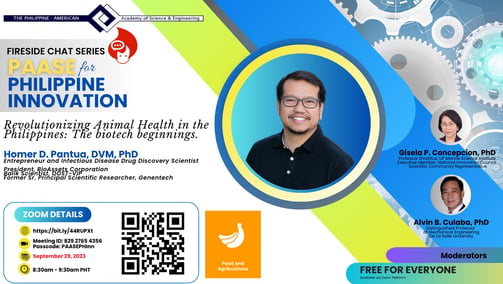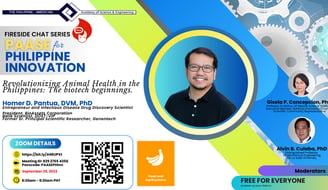 PAASE FIRESIDE CHAT SERIES:
PAASE for Philippine Innovation
Revolutionizing Animal Health in the Philippines: The biotech beginnings
29 September 2023, 8:30-9:30 AM (PHT)


Meeting ID: 829 2765 4356
Passcode: PAASEPHInn

Speaker:
Homer D. Pantua, DVM, PhD
Entrepreneur and Infectious Disease Drug Discovery Scientist

President, BioAssets Corporation
Balik Scientist, DOST-VIP
Former Sr. Principal Scientific Researcher, Genentech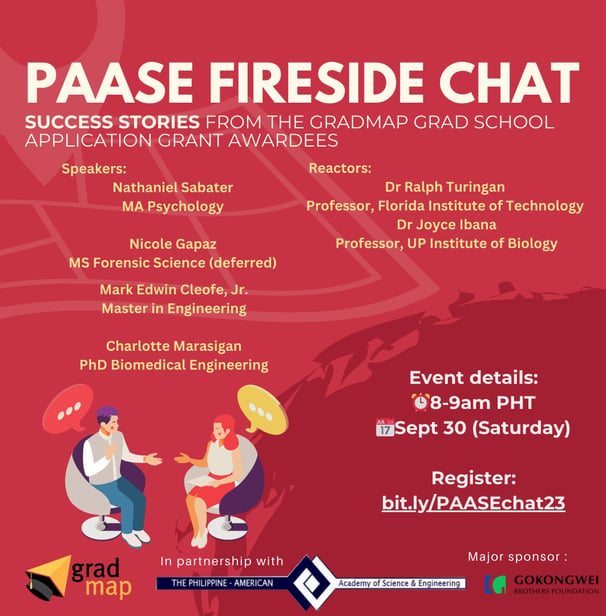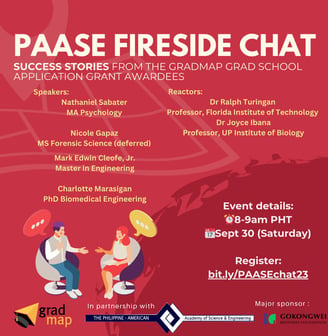 The Philippine American Academy of Science and Engineering (PAASE) and Graduate Mentoring Assistance Program (GradMAP) recently made significant strides in its commitment to fostering academic excellence and research collaboration. On Saturday, September 30 at 8:00 AM Manila (Friday, Sept. 29 at 8:00 PM EDT), they will sign a Memorandum of Understanding (MOU). The partnership will provide eligible PAASE-GradMAP participants small funding to support expenses toward application for graduate programs.

PAASE and GradMAP will also hold a Fireside Chat entitled Success Stories from GradMAP Grad School Application Grant Awardees on the same date. This engaging virtual event will feature the following grantee-speakers:
PAASE-GradMAP signing of MOU and
Fireside Chat on GradMAP mentoring program
Nathaniel Sabater - MA Psychology, UP Diliman

Nicole Gapaz - MS Forensic Science (accepted but deferred to next school year)

Mark Edwin Cleofe - Master in Electrical Engineering, Kyoto University of Advanced Science.

Charlotte Marasigan - PhD Cognition and Neuroscience, UT Dallas
Two of our PAASE colleagues will serve as reactors:
Dr. Joyce Ibana, Professor at the Institute of Biology, University of the Philippines Diliman

Dr. Ralph Turingan, Professor of Ocean Engineering and Marine Sciences at Florida Institute of Technology.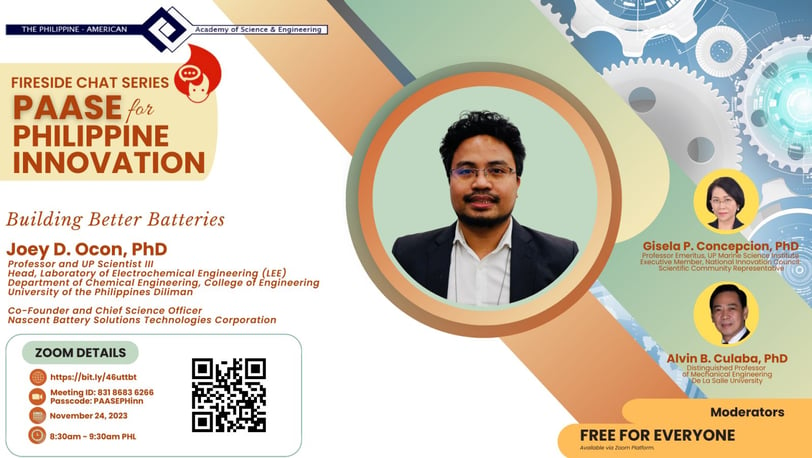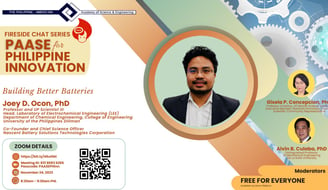 PAASE FIRESIDE CHAT SERIES:
PAASE for Philippine Innovation
Building Better Batteries
24 November 2023, 8:30-9:30 AM (PHT)


Meeting ID: 831 8663 6266
Passcode: PAASEPHinn

Speaker:
Joey D. Ocon, PhD
Professor and UP Scientist III
Head, Laboratory of Electrochemical Engineering (LEE)
Department of Chemical Engineering, College of Engineering
University of the Philippines Diliman

Co-Founder and Chief Science Officer
Nascent Battery Solutions Technologies Corporation